From the Guest Editors
Keywords:
intellectual freedom, library bill of rights, library user privacy, Connecticut librarians Patriot Act, surveillance marginalized groups, library exemption from disclosure, ORS 192.355, library user confidentiality
Abstract
Protecting patron privacy is a core tenet of the ethics of librarianship. The American Library Association's Privacy: An Interpretation of the Library Bill of Rights (2019) emphasizes that protecting the privacy of library users is key to ensuring intellectual freedom because surveillance and monitoring produce a "chilling effect on users' selection, access to, and use of library resources." In 2005, librarians in Connecticut made headlines by standing up against the FBI and the USA Patriot Act to protect patron records (Cowan, 2006). Faced with a clear threat to privacy, these librarians sued the U.S. government in defense of their patrons' rights. However, the daily erosion of privacy facing patrons today is often more insidious and the day-to-day work of protecting privacy in libraries is less visible.
This issue of the Oregon Library Association Quarterly is dedicated to stories of how library workers across Oregon try - and sometimes struggle - to live up to our professional responsibility to protect privacy. These stories come from all corners of our library ecosystem, from public and academic institutions and from large and small communities. The articles presented here provide snapshots of some of the current challenges that libraries face around privacy, as well as some practical tips for dealing with these challenges. We have also included a short guide to relevant state laws, which we hope provides context for the issue as a whole.
Downloads
Download data is not yet available.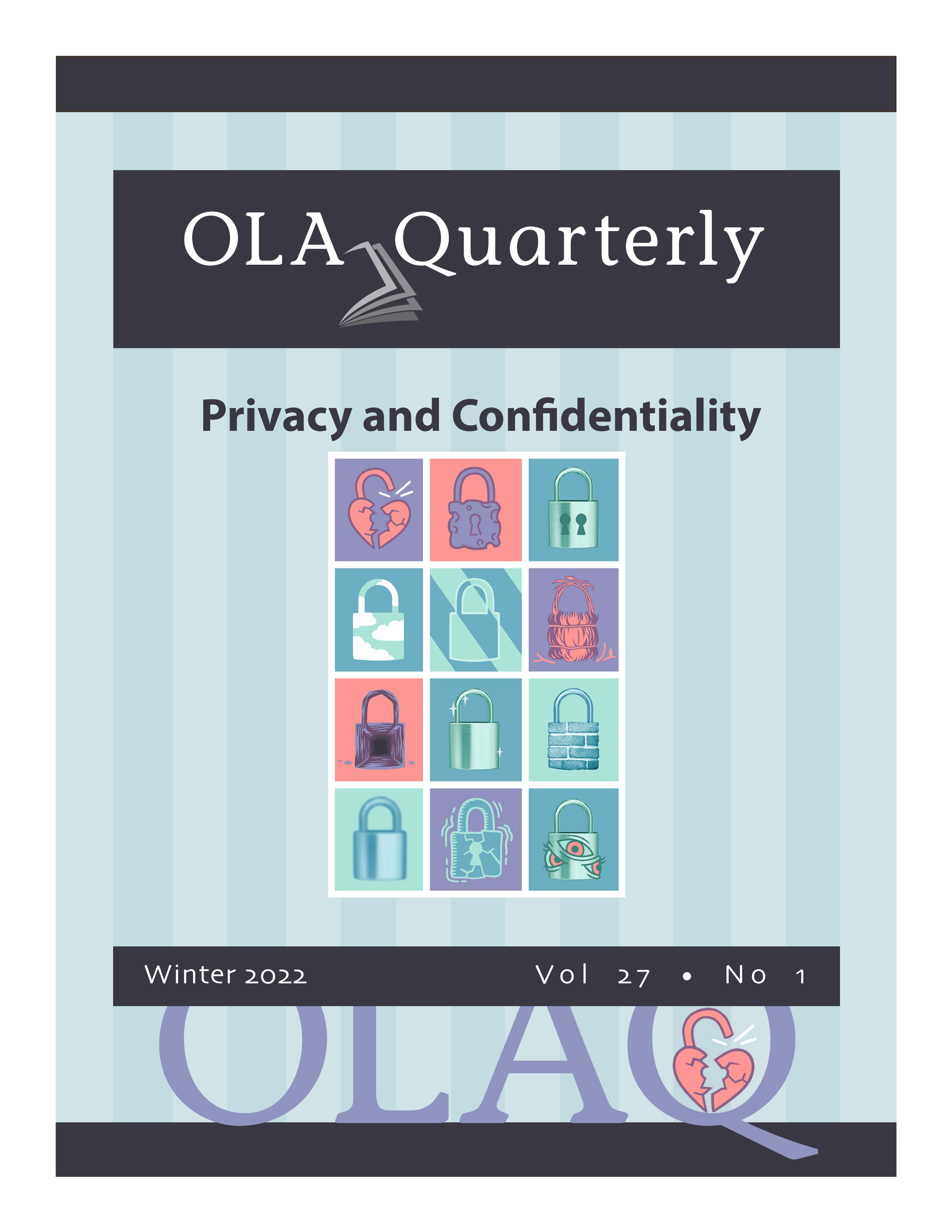 Downloads
How to Cite
Avis, E., & McElroy, K. (2022). From the Guest Editors. OLA Quarterly, 27(1), 3–5. https://doi.org/10.5399/osu/1093-7374.27.01.02